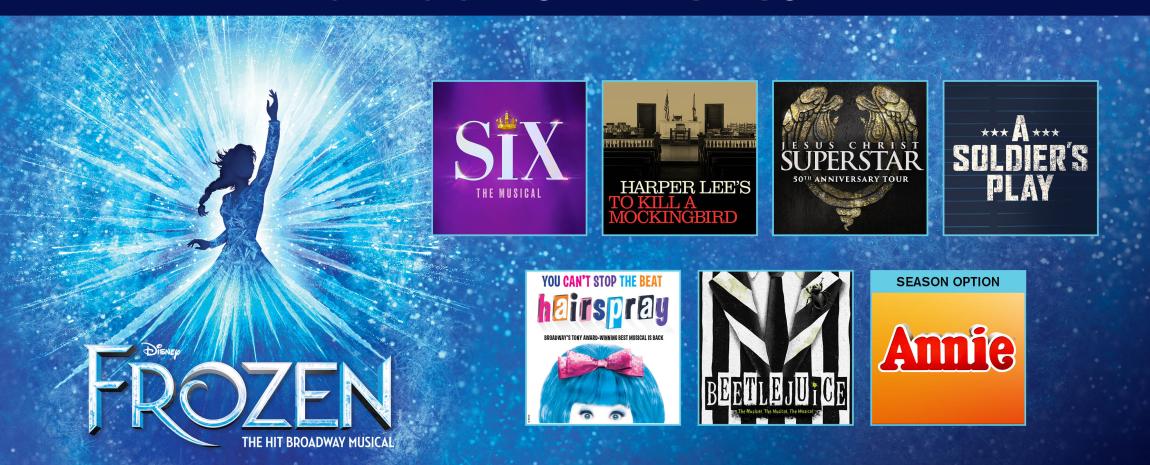 2022-2023 Season Tickets
What is included in a season subscription?
A 2022-2023 season subscription includes one ticket to each of the following seven shows:
SIX — Oct. 4–9, 2022 
TO KILL A MOCKINGBIRD — Dec. 6–11, 2022
JESUS CHRIST SUPERSTAR — Jan. 31–Feb. 5, 2023
Disney's FROZEN — Feb. 22–March 5, 2023
A SOLDIER'S PLAY — May 16–21, 2023
HAIRSPRAY — June 20–25, 2023
BEETLEJUICE — Aug. 22–27, 2023
---
22-23 Season Ticket Package Pricing
*VIP seating: Annual donation of $1500+ required in addition to the cost of the tickets. Please click here for more information.
---
Subscriber Benefits
ASU Gammage season subscribers receive the best!
A season subscription is one ticket to each of the following seven shows: SIX, TO KILL A MOCKINGBIRD, JESUS CHRIST SUPERSTAR, FROZEN, A SOLDIER'S PLAY, HAIRSPRAY and BEETLEJUICE.
Quality and Value
The BEST SEATS to the HOTTEST SHOWS The best is reserved for season subscribers. By purchasing a season subscription, you reserve your seats for seven hit shows and avoid potential single ticket price increases as the performance approaches.
Priority Seating on Season Options Receive priority access and special pricing on tickets for season options that are not part of the season package.
Priority Parking Priority parking is bundled into your subscriber package at ASU Gammage, ensuring the best parking in either the ASU Gammage lot or the Apache Parking garage (depending on arrival time).§
Save Big at Local Restaurants Receive discounts at select local restaurants.
Flexibility
Swap a Show** Season subscribers can swap any one show on the Broadway season with another show.
Optional Payment Plans Option to pay 50% now and 50% later. Must pay by credit card, limit one credit card per account. Valid only on seven show subscription.
Exchanges** Need to attend a different day or want to try better seats? Subscribers have discounted exchange privileges and can even exchange their tickets online!
Privilege
Advance Purchase Opportunities You can order additional tickets to ANY show, BEFORE they go on sale to the general public.
Subscribers Only Ticket Window Only subscribers have a dedicated service window at the ASU Gammage Box Office.
Subscriber Terms and Benefits
Prices, shows, dates, schedules, venues and artists are subject to change without notice. Depending on production requirements, seating may occasionally become available in the orchestra pit without notice. All sales are final. No Refunds. Season Subscriptions and all Tickets and Additional Tickets purchased under any Subscription, are subject to the terms on this page and the Broadway Across America® Standard Season Subscription Terms and Conditions . By purchasing a Season Subscription, you agree to such Terms and Conditions.
The price of each subscription seat reflects the face value of your tickets as well as $40 in processing fees and $35 parking fees, a total of $31.50 in facility fees, all applicable taxes. For subscribers in the VIP Club section, the VIP Club Subscription Fee noted below must be added to pricing shown. Parking fee is not optional and not refundable.
You will be notified of any COVID-19 health and safety protocols in effect in advance of each performance. All ticket holders are required to comply.
If masks are required, you will be required to supply your own while visiting ASU Gammage.
For subscribers who select payment plan, payments will be automatically charged to your credit card on July 25. Credit card required. Account must be paid in full before any exchanges can be processed online. Payment plan may only be applied to the cost of your Subscription package. Season Options must be paid in full at time of order.
For accessible seating or other special accommodations, please contact us at
boxoffice@asugammage.com or 480-965-3434.
**Subject to availability. Swap a show and exchanges may not be available or restricted for certain shows. There is a $3 per ticket exchange fee. Must be done at least 48 hours in advance of ticketed performance. If exchanging into a higher priced seating location or performance, Subscriber is responsible for paying the difference. It exchanging in lower priced area a credit or refund will be applied.
*VIP Club Subscriptions require an additional $1500 charitable contribution for each two seats that are purchased. VIP Club Subscribers receive priority access to premium seat locations , marked in yellow in the seating chart above, available only to these Subscribers prior to tickets being placed on sale to the general public.
§One parking pass will be issued to each subscriber account. If additional parking passes are needed please contact the box office at boxoffice@asugammage.com or 480-965-3434.